activism
Gabe's vow of sobriety, brief incarceration experience and disgust with the shallow corporate pop music world helped inspire him to pursue secular humanitarian causes in many different capacities.
People's Movements
After the release of Vital Nonsense in 09 he took part in protests at the G20 Summit in Pittsburgh which was historically noted as the first time a modern social network (Twitter) was used to aid protesters. Later the social media platform was accused of "obstructing justice" by the Pittsburgh Police Department. Rosales took part in the Occupy LA Movement marching with Labor and Bank Accountability organizations. He has rallied with local community centers in Los Angeles petitioning at Santa Monica City Hall to continue after school programs for at-risk youth and has hosted public radio shows promoting resistance music from around the world. With his local Hip Hop Collective Zulu Union chapter, the Calafia Zulus, he has facilitated events in feeding the homeless, back-to-school supply drives, and toy drives for needy children during the winter seasons. With his time and donated music he has helped support the annual canned food drive in Los Angeles Hip Hop for Humanity
Humanitarian Advocacy
As the facilitator of VNON charity events and with personal donations, Gabe has worked with C.A.S.A. Court Appointed Special Advocates, International Rescue Committee, Children of War Foundation, Children International, Save the Children, Green Peace, and Love a Community. In 2015 he traveled to the Kumi District of rural Uganda with the creator of Love A Community and Play Well Africa for a dual mission to aid both the largest dilapidated hospital and to document and facilitate Lego workshops for the local children at the primary school. Love a Community created the clean water-system from endless fundraising for Atutur hospital and through the 2015 mission they donated solar panels for consistent electrical power. As a University of California, Irvine student, Gabe was a Blum Center for Poverty Alleviation Ambassador working on multiple events annually, centering around refugee issues, food insecurity and homelessness.
US Government Programs
He has worked with the US State Department and the world renowned LA based youth advocacy non profit organization Create Now, building with Hip Hop artists from the Middle East and North Africa to stop impoverished youth from joining terrorist organizations. With this organization and the US State department he has facilitated the creation of Hip Hop Collective chapters in Egypt and Tunisia. Building on solutions with the board of Directors at Create Now and the management at a gang-member-reform collective called Homeboy Industries, Gabe helped to solidify lifelong connections and tools in providing at-risk juveniles a creative outlet.
Education & Documentary
Rosales was asked to join activist musician George Lynch's band Shadowtrain in 2011 to record multiple albums and travel the United States documenting the plight of Native Americans and the obscene poverty many of them face in Third World America. Through this band Gabe became affiliated with the American Indian Movement and the "Zero Tolerance" chapter at the Pine Ridge reservation. This award winning documentary entitled Shadow Nation included original music from Shadowtrain, consisting of a double album released on Ratpak records. Purchase the double album by clicking here and purchase the Shadow Nation movie by clicking here.
Academia
Rosales began pursuing his formal educational goals in 2010. As his activism centered around at-risk youth, substance abuse treatment, and urban arts, his focus shifted from Anthropology to Criminology. In 2015 he earned an Associate in Arts degree in Liberal Studies and a General Studies Certification at Saddleback Community College and in 2017 he earned a Bachelor's degree from the nation's top undergraduate Criminology, Law and Society program at the University of California, Irvine (UCI). At UCI, Rosales was a recipient of the Fudge Family Scholarship for the School of Social Ecology, he co-founded the undergraduate chapter of the organization Students For Sensible Drug Policy, was the co director of communications and media for the UCI Blum Center for Poverty Alleviation and joined the Secular Student Alliance. As an alumni, Gabe has also helped create a chapter of the Underground Scholars Initiative at UCI, and has also been liaison for the SSDP Chapter. Gabe entered law school at Western State College of Law in Irvine, CA in 2018 but he withdrew as his prison work became more consuming, shifting his focus to research. This altered his academic trajectory to pursue a doctoral degree in criminology.
Criminal & Juvenile Justice Reform
During the summer of 2016 Gabe became an affiliate Law Clerk working on the Clemency Project 2014 and petitioned for the release of non violent low-level drug offenders who were serving unjust, outdated and irrational sentences. In 2017 Rosales attended leadership training seminars at the University of Southern California (USC) facilitated by Just Leadership USA whose goal is to cut down 50% of the prison population in the United States by 2030. Rosales was later handpicked for a group of fierce and focused criminal justice advocates and activists to converge at the state capital for a 2-day conference called Next Generation Fellowship. He brainstormed with officials from the Center for Juvenile and Criminal Justice and the MILPA collective for working solutions to California's correctional institution populations. They later presented these solutions to the state's legislative bodies. In early 2018 Gabe joined forces with the innovative nonprofit founded by United States rock icon Wayne Kramer called Jail Guitar Doors. He facilitates weekly classes in Richard Donovan State Prison on multiple yards to help rehabilitate the incarcerated population through positive songwriting expression.
Recovery Advocacy
In 2013 Gabe started an online community of secular sobriety advocates called Secular Sobriety Network. As the sole administrator he filled the page with addiction science related articles, alternatives to AA and 12 step-modeling, and positive recovery affirmations. As the page grew in members he added a certified counselor as another administrator and by 2016 he began the process to earn a substance abuse counseling certification from both State agencies and an alternative Cognitive Behavioral Therapy (CBT) program. He became a guest speaker at various Intensive Outpatient programs around Orange County, CA. In 2017 Rosales crossed paths with interventionist/guest speaker/documentarian Todd "Z-Man" Zalkins and the Nowell Foundation where he appeared on Mr. Zalkins' sobriety podcast. In 2018 Gabe became SMART Recovery certified.
Gabe has several publications through Inner Child Press on racism and the evolution of skin pigmentation from the latest anthropological studies and he is well established in teaching all styles of music as an outlet to nurture youth at The Guitar Shoppe in the city of Laguna Beach and online on the cutting edge new music instruction site, Dangerous Guitar.
ACTIVISM MEDIA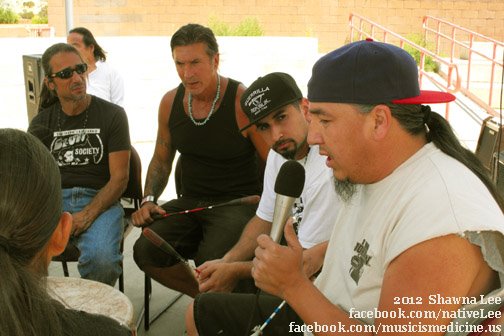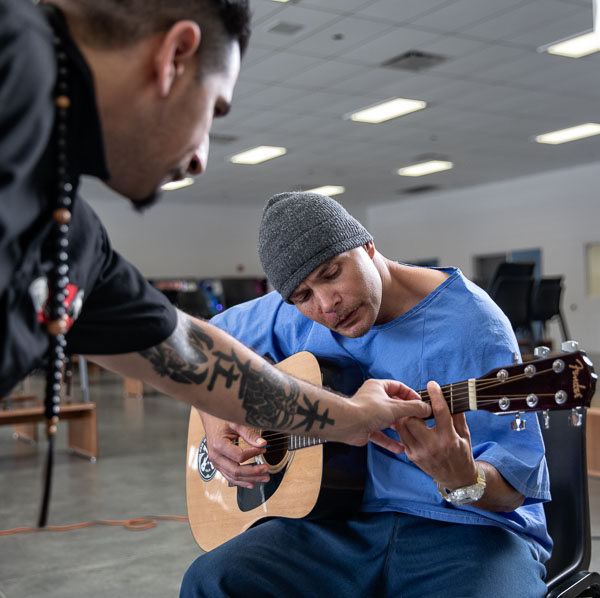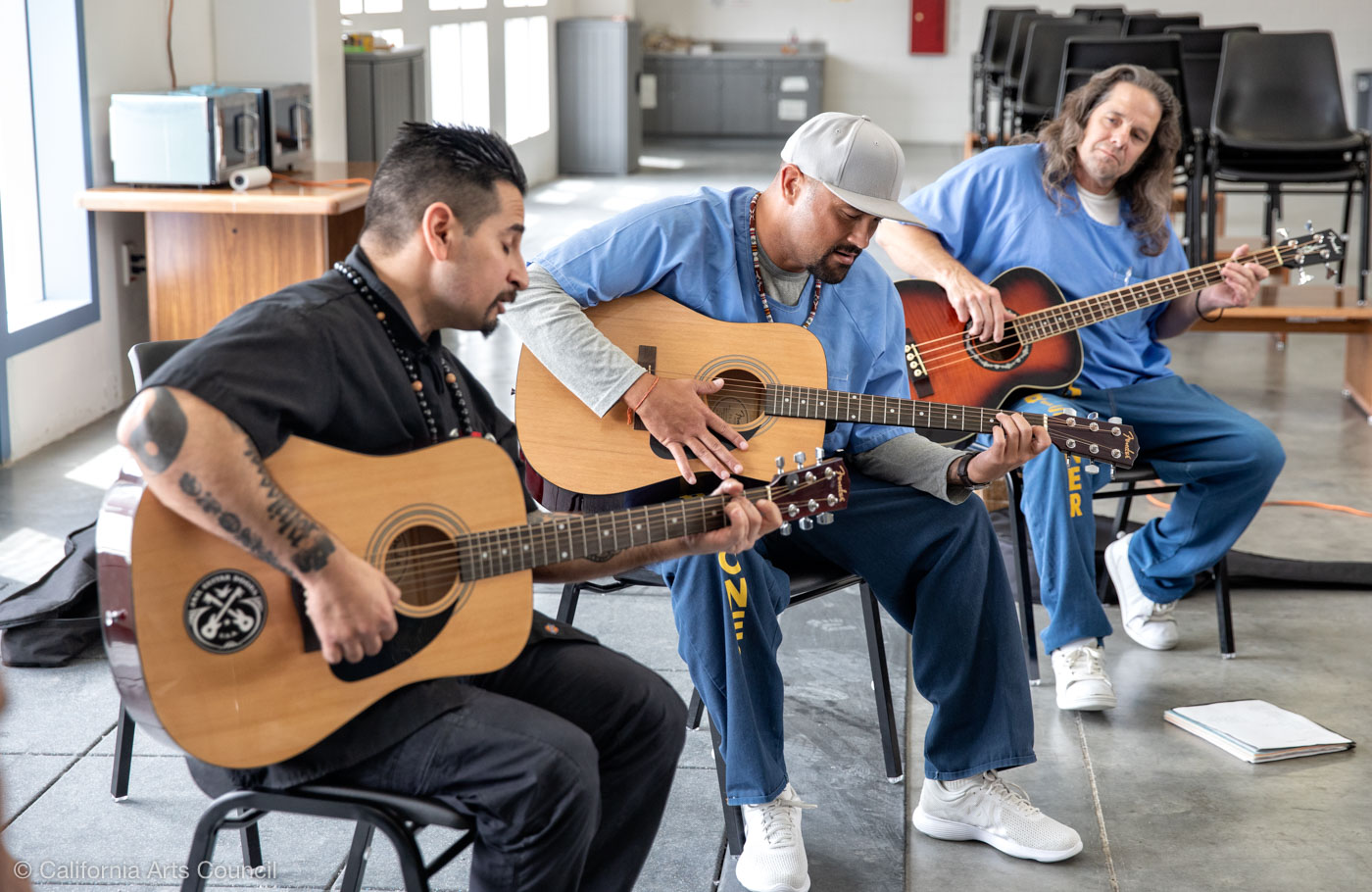 current titles held:
VNON - Band leader and Movement Creator
Zulu Union Delegate
Guerrilla Republik - West Coast Associate
Grand Unified - Science Education Collective - Founding Member
Anti Injustice Movement - West Coast General
Love A Community - Voluntary Board
American Indian Movement - Affiliate
Law Clerk for Clemency Project 2014
Secular Sobriety Network Founder
Just Leadership USA - Formerly Incarcerated Emerging Leader
Center for Juvenile and Criminal Justice - Next Generation Fellow
Jail Guitar Doors - Artist Facilitator
Students For Sensible Drug Policy Alumni Association
Sobriety Date
april 30th 2007
US State Department & Create NOw
Cultural Exchange
Shadow nation documentary
anti injustice movement promo